This Site was created on: 15th July, 2001
Last Update: 15th July, 2001
Welcome To My Site Dedicted To The Wonderful
AMBER BENSON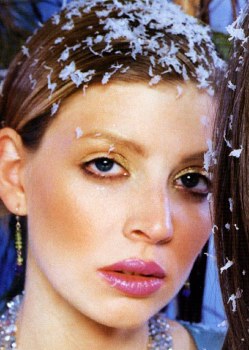 I have been a huge fan of Amber Benson for only a few years, but during that time she has meant an awful lot to me. See why on the
Why a Goddess?
page.
Many people know Amber as only Tara in Buffy the Vampire Slayer, but check out all her other accomplishments in her
Filmography
, and the story of her life so far in her
Biography
.
Amber loves getting mail, so check out where to contact her on the
contact Amber
page.
On this site, I have put a quote from Amber or one of her fans at the top of each page, which I believe sums up Amber, and why people love her. (At the time of publishing, some of these are yet to be completed. If you have any favourite Amber quotes that you think should be included, let me know!)
This site is not completely finished yet, but I wanted to publish it to the web now, to see what people think and to see if there are any new ideas for it, so please sign the guestbook below, and e-mail me if you have any comments, ideas or probleems with the site!
Please realise that I do not know Amber, this is not an official site and I have no contact with her. It is made purely due to my respect for Amber Benson.